Kovohutě Rokycany, a.s.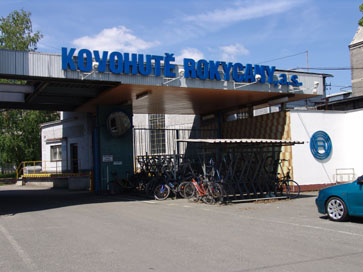 Dear friends,
Welcome to our website. We are a company with tradition and many years of experience with vacuum production of nickel alloys. This gives us a basis for the implementation of our current vision:
BE A MODERN, FLEXIBLE, RELIABLE AND ECONOMICALLY STRONG PRODUCTS MANUFACTURER NICKEL ALLOYS, CAPABLE OF MEETING THE SPECIFIC NEEDS OF OUR CUSTOMERS.
In 2015, we are using the methods of Lean Manufacturing began to rapidly change our approach to every demand, every order. We have significantly reduced our delivery time and we are ready to meet with repeated sampling and fast deliveries from our warehouse. We began to implement a program of internal qualification of staff, introducing a preventive maintenance program (Total Productive Maintenance). All have the same goal - customer satisfaction.
Currently, we export 70 % of our products in the form of rods, tubes, sheets or strips in most European Union countries but also in the USA, India, Korea, Taiwan and other countries.
From 2016 to specialize in the production of sophisticated nickel alloys (superalloys) for critical environments, such as those in the chemical industry, aviation, energy, oil and gas industry, electronics, nuclear, automotive, welding, medical equipment, etc.
Our motto is
ALWAYS SATISFIED CUSTOMER
I hope to soon convince our qualities too.
Miloš Tuček
CEO